Weekend Rewind!
This past weekend was super busy but so much fun. Since I haven't posted much since last week I am starting on Thursday since I have some cute pictures from that day.
Thursday we went to our first Story Time at the Library near our new house. It wasn't too bad but the best part was seeing our friends Lindsay and Payton. Payton is just about the cutest thing ever. She also made me slightly jealous that Ace isn't a little more contained when we go out, ha!
Friday my friend Anna came down to visit. She is ah-mah-zing! Probably one of my most favorite people ever. She moved to NYC when I moved to Tampa and so whenever we can get together is always a fun time. We went to surprise my sister since she didn't know Anna was coming down and just had a great day.
Later on that night my sister took Ace so Bran and I could have a date night.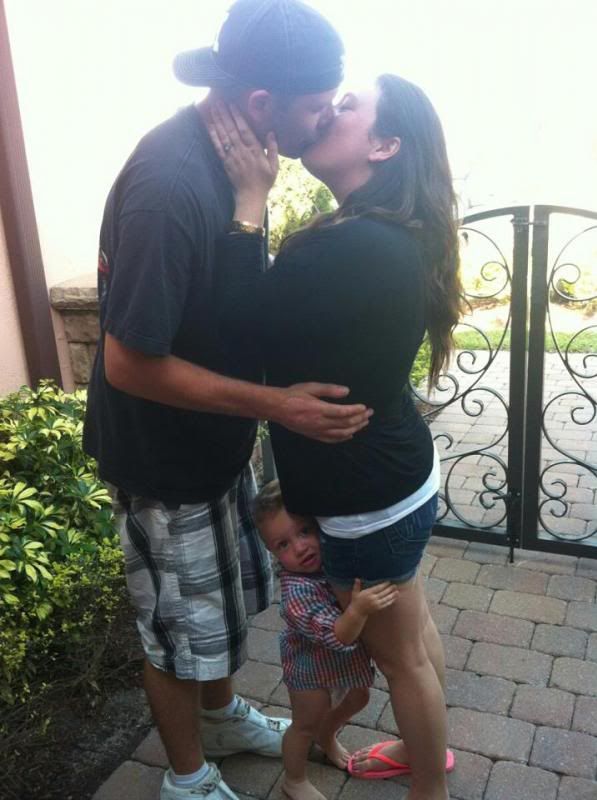 Bran gave me a kiss and Ace came over and grabbed onto me. He is so sweet.
Saturday wasn't too exciting because Bran worked but later that night we had to put up a gate on the stairs and Ace got his tools and helped Bran put it up. Talk about cute, right? BTW don't mind our stairs, they are bare right now since we have to get flooring on them.
Sunday we went to a Bar-B-Q at my sister's house and Ace loved the pool with all the kids and my brother and his family came and Ace and his cousin Gavin are just under 3 months apart so it was super cute seeing them together.
And how cute is this picture? He only has eyes for his cousin Brianna, every time he sees her he runs straight for her.
That was our weekend in a nutshell. How was everyone else's? Do anything exciting?
Also don't forget to enter the two giveaways going on right now by The Anchor & Bows Boutique.