My Top 5 Blogging Tips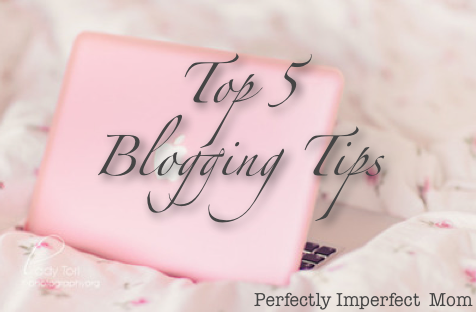 1.
Keep it "simple"
Having a blog can mean having a place to spill your inner most thoughts and secrets but other times it is a place where you are having a conversation with your readers as well as sharing what is going on in your life. If you are the type of blogger who is building a following and wants to really have a conversation with your readers keep
it simple and to the point
.
Try to remember your readers may be following other blogs as well and their time is
precious
. They may only have a few minutes to catch up on their favorite blogs and if they see a really long blog post they may just skip it for lack of time. Make sure to
ask a question
after your post as well. This is a great way to get your readers to engage your readers.
2.
A picture is worth a thousand words
This can not be more true when it comes to blogging. I love seeing bloggers photos and all the fun times they are having or the awesome projects they have done (Pinterest, anyone?). It makes the post more appealing to the eye. You can even have a post of
just photos
and people will love it!
3.
Connect with others
The best thing you can do to gain readers is to
connect
with fellow bloggers. They obviously have a similar passion as you and if you can team up to guest post and link to one another even better! Using
social media
like
Facebook
,
Twitter,
Instagram
and
Pinterest
has been my favorite way to connect with other bloggers and it makes it easier to follow up with them.
4.
Link up!
Finding
Link Up
parties can inspire you to step outside your comfort zone. I love finding new ones and trying them out. Some stick, some don't but they are always fun and you can usually find new bloggers to connect with.
5.
Back to Y-O-U
This should seem obvious but sometimes in the blogging world we can get a little lost. If you are a blogger who has blogged for compensation (sponsored posts, products, ect.) then you may have lost your way and that is all you seem to be doing. I have been there. I was bombarded with reviews and giveaways and since I was going through a
difficult time
I just stuck with that for a bit and I noticed a huge
drop
in my views. It happens and the best way to fix it is going back to basics and what is going on with your life, helping your readers reconnect with the person they first started reading about.
If you could make your own blogging tips, what would some of them be?