Let Football Season Begin at Buffalo Wild Wings!
This is a Sponsored post written by me on behalf of Buffalo Wild Wings for SocialSpark. All opinions are 100% mine.
Ok so I am not the biggest football fan. When I was away at USF in college I loved football games and football season but now I am really only in it for the food. I mean lets be honest, there is no better food than buffalo wings, fries and beer while "watching" a football game.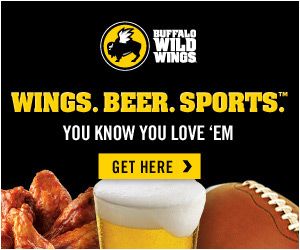 My husband on the other hand is a huge football fan. I mean every single game is watched it seems like. He has his teams he loves, Go Blue!, but he just loves the sport. So my requirement for the nights I am so not into the whole football scene is going somewhere fun to watch the game. Someplace that I can enjoy being with my boys and enjoy the food. 
I am a huge fan of Buffalo Wild Wings. They have so many awesome deals and amazing wings. You can't beat their Bottomless Boneless Lunch and Wing Tuesday's. Don't forget to check out the new Redhook Game Changer Beer as well! 
This is a place my husband, son and I can all agree on and never have to argue over watching the game because he can enjoy the game at a restaurant we both like. Want to get the most up to date info, deals and new items from your favorite restaurant? Then Follow Buffalo Wild Wings on Twitter and make sure to Like Buffalo Wild Wings on Facebook.